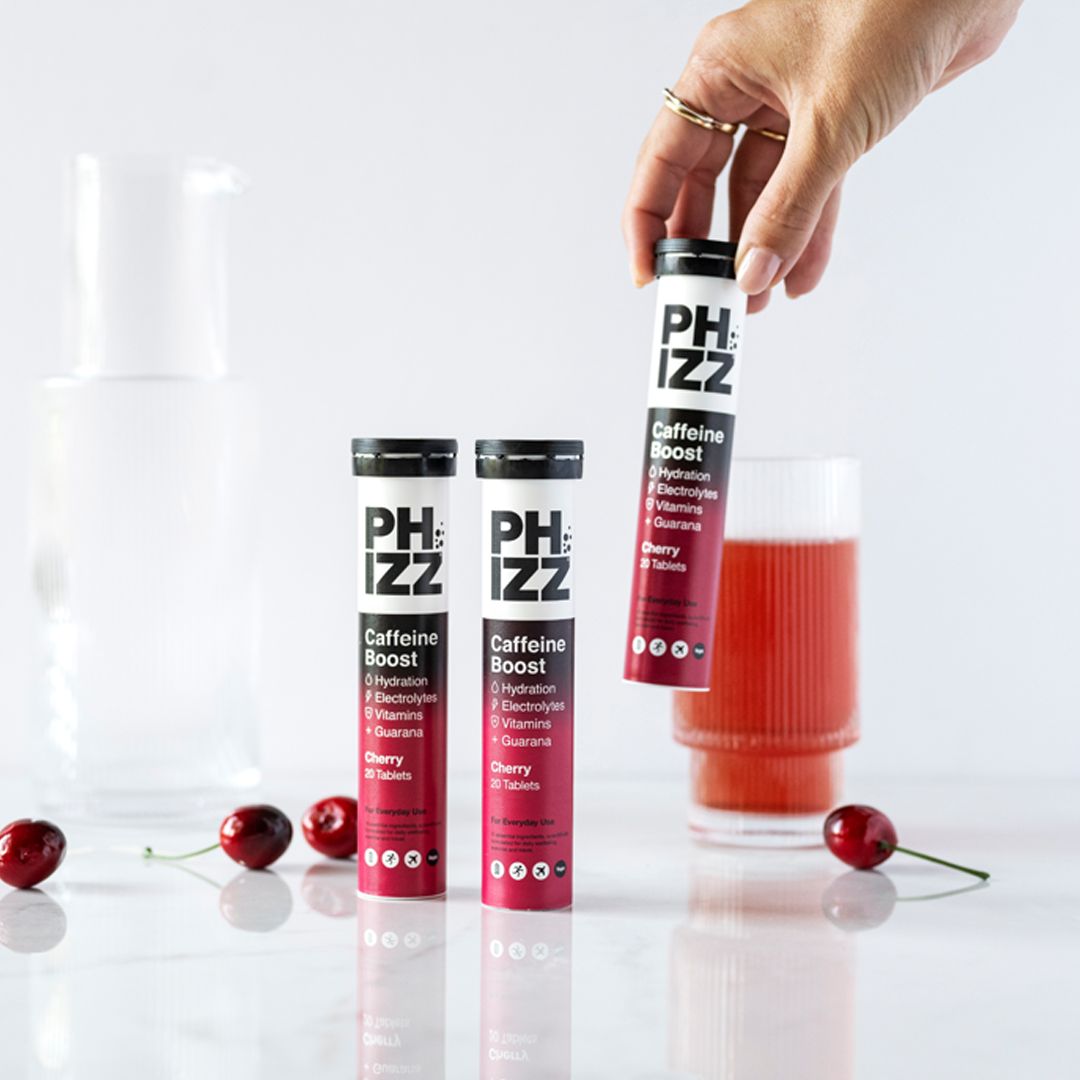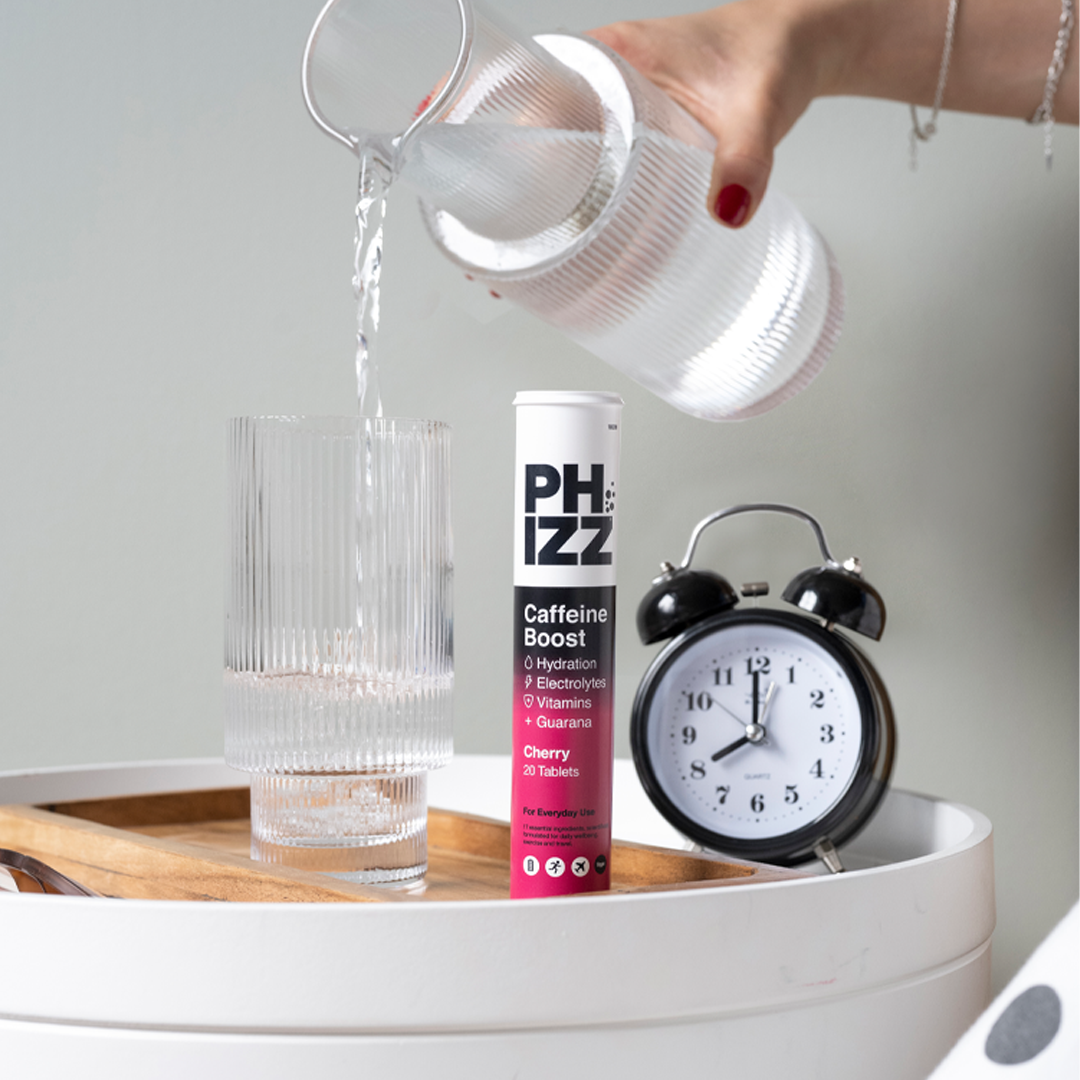 Benefits:
Shipping & Returns

Standard Shipping

● Free Royal Mail Tracked 48 shipping is available for domestic orders (within the U.K.) over £15. 

● Under £15 and within the U.K., standard shipping is £1.99.

● You will receive your tracking number when your order ships in an email.

Expedited Shipping

We also offer expedited and tracked domestic delivery for £4.50 per order via DHL 24 Hour Tracked service.

Returns

Unfortunately, due to the nature of our product we are unable to accept returns of any opened tubes. Returns for other reasons, for example damaged products, will be considered on a case-by-case basis.

75mg Caffeine

Hydration Formula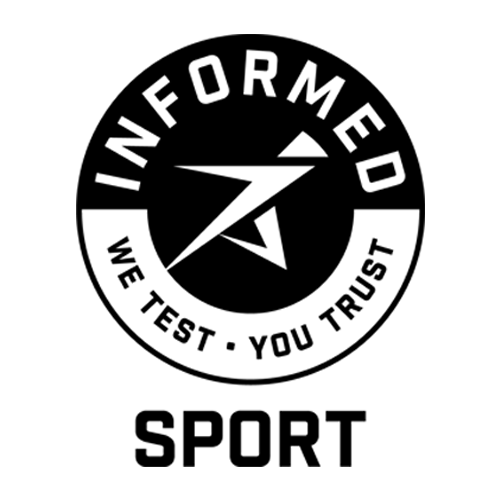 Informed Sport Tested
All-in-One Solution For
Every Day Life
All-in-One Solution For Every Day Life
What's the difference between Phizz Caffeine Boost and Phizz 3-in-1 Formula?

Our new Cherry Caffeine Boost contains a comprehensive mix of vitamins and electrolytes with 75mg of caffeine and from natural guarana extract. The main difference from our 3-in-1 formula is we've removed Vitamins A & E and replaced them with Caffeine.
How much caffeine is in Cherry Caffeine Boost?

Our Cherry Caffeine Boost formula is made up of both caffeine and, the slower energy releasing, guarana extract. 62mg is provided directly in the form of caffeine and 13mg is provided by the 59mg guarana extract, to make a total of 75mg of caffeine.
When should I take Phizz?

You can take Phizz as a daily vitamin supplement or as a rehydration formula to help replenish the 2-3 litres of water your body loses every day. We are also perfect for whenever you need a boost of hydration or to unlock energy. We are also used by both elite and amateur athletes to put back the important water and minerals lost in sweat. We're great at helping you recover from late nights, long days and generally picking you back up when you're feeling run down. We're versatile vitamins!
How much water should I use?

One tablet of Phizz can be dropped into any quantity of water - it just depends how strong you like the flavour! We recommend 300ml of chilled water for maximum refreshment. Once dissolved, consume within 24 hours.
Can I consume Phizz daily? How many Phizz tablets can I consume per day?

Yes, Phizz is great as a daily hydration and vitamin supplement! Do not exceed the recommended maximum dose of 4 tablets in 24 hours.